The use of disposable dishes is increasingly criticized or even banned. This trend is very strong in Europe. France, for example, has decided to ban plastic cutlery and crockery from January 1st, 2020 in its new law on the energy transition to green growth.
In Switzerland, different municipalities already banned the use of disposable utensils at events in their territory. Big colleges and universities are also thinking about abandoning the disposable utensils on their campus by reusable materials. This trend is also observed in fast food restaurants, concerts, in stadiums, and in cultural events. The tendency is to abandon the disposable whenever possible in favor of reusable!
Restaurants, bars and events that use this type of glasses require a deposit when buying the drink that is refunded when the customer returns the glass. This return is rather annoying because the person ends up having to re-enter the queue to return the glasses.
In collaboration with ecomanif, GreenWins® develops a terminal capable of collecting cups of different sizes and stacking up them in a container, that way, the collection company can easily retrieve them for washing. The GreenWins terminal is capable to return the value of the deposit, either in a voucher, or by carrying the customer card, or by returning the money. Each project can, that way, attending the customer specificities.
Of course, all the other features of our terminals can be used: interactive screen for movies and advertisements, dialogues, database, branding, etc.
We are very proud to participate in this new fully sustainable project that prevents the production of unnecessary waste and reduces the production of greenhouse gases and preserves the resources of our planet.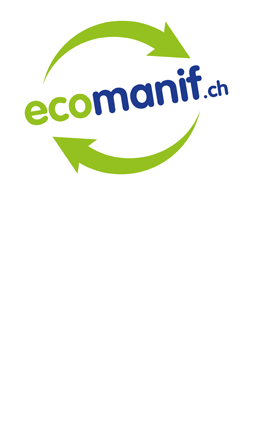 ecomanif in Yverdon-Les-Bains, a subsidiary from STRID, provides reusable dishes since 2010. Thanks to these years of experience, ecomanif has become a leader in the French part of Switzerland. This company works since small events until big festivals, receiving tens of thousands people. Additionally, the company supplying and dishing all glasses and plates.
The specifies from ecomanif are your reactivity, your social implication in washing in a properly and protect environment and their interest in developing projects to extend and make reusable cups and dishes more accessible, regardless of where they are used (parties, events, companies).